Strategy
Prolifico acquires undervalued, medium-sized real estate assets that do not invite heavy competition from large capital sources, typically in up-and-coming areas of major Brazilian cities. The managers target investments with 20%+ projected yields on total cost, and IRRs of 30%+ over periods of 3 to 7 years.
Prolifico looks to create value through development and operation of "niche" operating businesses well suited to such areas. As Brazilian cities mature, strong underlying asset appreciation that can be expected of these areas provides added protection for invested funds.
The operating businesses Prolifico pursues share the following general characteristics: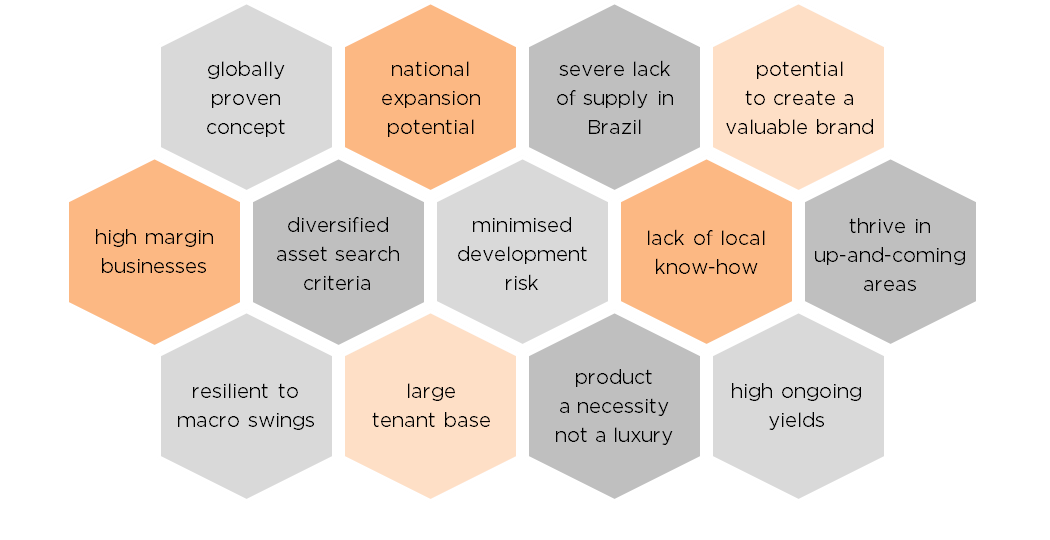 Business Model
In addition to regularly launching investment vehicles to acquire and develop real estate on behalf of its investors, Prolifico also enters into equity joint ventures in each of its core operating businesses:
1. Investors looking for high, asset-backed returns over a 3 to 7 year timescale invest in Prolifico's investment entities.
2. Prolifico's legal entities have the purpose of acquiring, developing and exiting commercial real estate assets as stabilised operating businesses.
3. Prolifico's operating businesses, set up in JV partnerships with experienced operating professionals, are dedicated to stabilisation of the assets ready for exit to yield investors.
Value Creation Process
From the sourcing and acquisition of real estate to its exit and sale as a stabilised asset, Prolifico's value creation process includes the following phases: